.
For the Record
by Jack Masters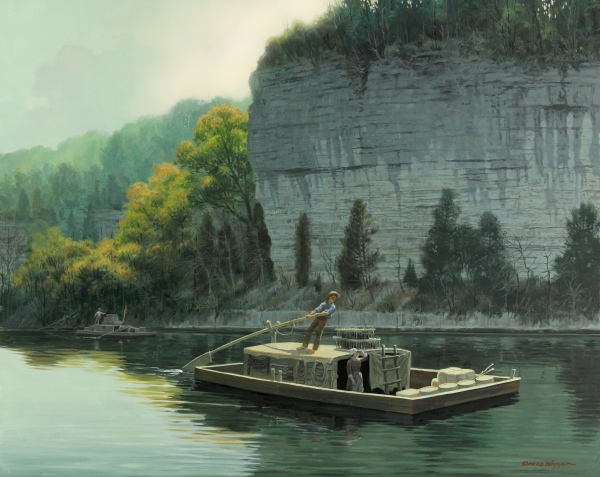 DRIFTING DOWNRIVER Flatboats on the Cumberland – David Wright, Artist
For the Record - Miscellaneous topics and various tidbits by Jack Masters
A detailed study outlining several aspects of the Signers of the Cumberland Compact

A study determining who and how many signed the Cumberland Compact
Contains notes supporting duplicate signers
Listing of signers in order signed as well as an alphabetical listing by last name

Summary and listing of those with preemptions in Davidson County North Carolina

Facts confusing the existence of the Avery Trace in Middle Tennessee and the lack of understanding Tennessee House Bill 2568. The bill was introduced and enacted in 1990 to promote the Avery Trace purely as a "Heritage Tourism Corridor".

Revealing North Carolina Land Grant issued to Stockley Donelson and William Tyrrell for 3000 acres at Crab Orchard Tennessee.

Plat of 18 adjoining tracts of 5000 Acre North Carolina Land Grants on Duck river. These are the Blount Grants and the details are interesting to say the least. Thanks to the Museum of Early Southern Decorative Arts for use of the image. The Blount Grants

A selected library of recommended reference materials.

Images and the route of recently discovered Station Camp Backwater Road north of Gallatin in Sumner County Tennessee.
Old Road extends west over 8 miles from Porter Womack's old place west and south until it intersects Red River Road directly across from Liberty Lane.

For the Record subjects to be introduced soon include updates and location of the Indian Trails south and east of Black Fox Camp in Rutherford County as well as other subjects.
email Jack Masters