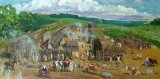 There is a great deal of confusion linking Peter Avery with North Carolina legislation in 1786 and later to build a road to the Cumberland River region. We have not seen a North Carolina reference to Peter Avery nor are we aware of any.
What we have found is that the North Carolina Assembly in its November Session of 1787, after no previous progress in building the road, did attempt to get a road built to the Nashville area. After many requests from the Cumberland settlers through their leaders Anthony Bledsoe, James Robertson and James Donelson the Assembly issued the following Act:

An Act to Effect the Cutting and Clearing a Road from the Lower End of Clinch Mountain to the Cumberland Settlements, and for Preserving and Granting Safety to the Inhabitants Thereof I. Be it Enacted by the General Assembly of the State of North Carolina, and it is hereby Enacted by the authority of the same, That it shall and may be lawful for the commanding officers [of Sumner and Davidson Cos. Militia] to appoint two or more persons to examine, survey and mark out the best and most convenient way from the lower end of Clinch Mountain to the settlements of Cumberland as aforesaid; and the said commanding officers are hereby vested with full power and authority to order out the militia of the counties of Davidson and Sumner, to cut and clear the road so marked as aforesaid, under the direction of themselves or either of them, or any of the field officers by them appointed to superintend the same.
We next see from the Davidson County Court minutes from the April session in 1788:
Resolved, That those who Labour in clearing out of the Road from Nashville to lower end of Clinch Mountain be allowed (illegible) per day for each day retained thereon.
And again from Davidson County Court minutes October 1789
This may certify that we as contractors for this County did contract to pay Robert King and party on the faith of Davidson County Three Hundred and forty pounds Lawful Money of S'd State for Marking a Road from Clinch River to Nashville as Witness our hands July 15th 1788 Signed Robert Hays and James Robertson
According to Ms. Jane Buchanan, who has done more research dealing with Peter Avery than anyone else we know, Peter Avery was never mentioned by North Carolina as having anything to do with any road. It's her idea, and one which we agree with, that the legend of Avery's Trace likely came from stories of Captain McElwee who was an early historian of Roane County, Tennessee. His anecdotal histories, while interesting and entertaining lacked any documentation. The astute author, Harriette Simpson Arnow, in her definitive works Seedtime on the Cumberland and Flowering of the Cumberland never mention the word Avery.
There is evidence however, of an "Avery road" which is linked to three Tennessee land grants which have been located. The most western grant concerned a 200 acre grant issued to George Wanton. Surveyor instructions called for the "old Avery road" with the location of this grant being on Mammy's Creek which is near today's Rockwood, TN. This reference is the most western reference which has been located to date by any researcher including Mr. Bob Brown who spent a lifetime dealing with roads in middle and east Tennessee. Three grant references indicating the existence of the road are:
Roane County - Entry made by William Clift, of No. 866. Dated 10 Apr 1811. 10 acres of land on Alder Spring, on the North side of Waldens Ridge, on Averys trail on waters of Clifty, a Branch of Emerys River
Morgan County - Entry filed by George Winton for 200 acres, No 268 Dated the 2nd January 1826, ".... where the old Avery road intersects with the old Walton road."
Roane County - Entry made by Joseph Clift of No. 514. Dated 28th day of December 1809. 10 acres of land on the waters of whites creek where "AVERYS great Road crosses said Creek..."
The existence of the Avery trail/road/great road did then exist, at least in the minds of those who made the reference in these three grants. It would seem probable that the road used or led to "Tollunteeskee's Trail" which was the basic route upon which the Cumberland and Emory Roads were a part of in the area.
Update June 5, 2010 - We have located the clearest definition to date concerning the existence and route of the Avery Trace. Reference is made in the highly respected work by Alvin B. Wirt privately published in 1954 titled The Upper Cumberland of Pioneer Times. On pages 15 - 16 find a section defining "The North Carolina Military Trace of 1788" also called the "North Carolina Road," and "Cumberland Trace."
"...... in August 1787, the 80 volunteers rendezvoused at the western terminus of Averys Trace near the southern end of Clinch Mountain, in what is now Grainger County........ Shortly there after the battalion commenced the task of opening the military trace to the Cumberland, beginning at the terminus of Averys Trace. From there the route lay ........ Flynns Creek, the upper crossing of Cumberland River and Dixon Springs, to Nashville. This trace was opened to the public on September 25, 1788.
The area which we are intensely involved with is the trail/road/trace from Western Jackson County, thru Fort Blount, Bledsoes Lick, Manskers Station and Nashville. We have reviewed 40 microfilm rolls of Record Group 1177 from North Carolina containing over 16,000 grants. These records contain warrants and surveyor documents with plats for land which was set out originally as a means of payment to North Carolina soldiers. The word "Avery" in any form is not mentioned in any of these grants. A few examples of what the surveyors called the road was: Waggon Road leading to Nashville, road leading from Bledsoes Lick to Holston, Holston Road, Holstein road, Road to Holson, road leading from Bledsoes Lick to Holston, Waggon Road leading to Nashville, Settlement Trace and road from Bledsoes licke to Holston. Individual sections in our focus area were called such names as Gibson Trace and Lower Goose Creek Trace for example. For the purposes of our study we are calling the road/trace/trail "Holston Road" since most of the descriptions include the word Holston.

Having given this background the real source of confusion was introduced on February 5, 1990 when House Bill No. 2568, enacted by the General Assembly of the State of Tennessee, designating portions of certain highways to be named "Historic Avery Trace". According to the Bill "When an area has historic, cultural, and natural sites to promote, it provides a marketing hook."

No matter how well intentioned, permanent distortion to the true location and names of old roads in the region has taken place. Many hundreds of signs have been placed on the routes discussed in the Bill, stating "Historic Avery Trace". When hundreds of thousands of residents and tourists see the signs they have no other reason than to believe that they are on the Avery Trace. Hence, Avery Trace is synonymous with any old pioneer road or trace in the region as viewed by the general public.

Today, General Assembly resolutions, historic markers, county museums, art and books, written, published and distributed by the State of Tennessee for our children, have cemented in the historic awareness the name of an East Tennessean who never contracted a road and most certainly never impacted road development in Middle Tennessee.

If you have any information contrary to what we have posted here please let us know - we are attempting to get this work accurate and this has certainly been, and will likely continue to be, a difficult subject to address.