.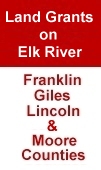 The First Southwest
The Third Atlas of the Cumberland and Duck River Settlements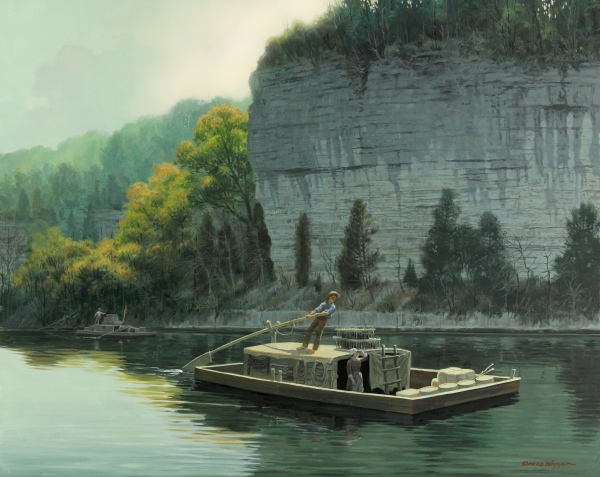 DRIFTING DOWNRIVER Flatboats on the Cumberland – David Wright, Artist
Volume III - The First Southwest
The Third Atlas of the Cumberland and Duck River Settlements

Appreciation
Introduction
Chapter 1 - The Twenty Years War
Chapter 2 - Freedom of Faith
Chapter 3 - Tennessee Volunteers
Chapter 4 - The Age of Jackson
Chapter 5 - The Raven Flies to Texas
Chapter 6 - The Cumberland, Commerce and Agriculture
Chapter 7 - Tennesseans and Westward Expansion
Appendix A - Genealogy
Appendix B - A Citizens Army
304 color pages
North Carolina Land Grants in Tennessee

A continuation from Volume II expanding area of Land Grants.
103 full page color maps featuring actual plats of the grants on current USGS Maps. Includes old road systems, traces, springs and other features related by the pioneer surveyors themselves.
Focus area includes all of Bedford, Dickson, Marshall & Maury Counties, remainder of Cheatham & Montgomery Counties, Majority of Hickman, Houston & Stewart Counties & portions of Coffee, Giles, Humphreys & Lincoln Counties.
See map below for a graphic representation of the Counties included in this and other Volumes

Complete all name & geographical features Index



View listing of Volunteers & Genealogy appearing in Appendix A & B




View the Media Collection associated with Volume I

Land Grant Genealogy 4

Now Available

Sample Pages and Format of Data Supplements


Land Grant Genealogy 4 is a continuation of our efforts in location and transcription of North Carolina Land Grants. Prior purchasers of our work will be able to enjoy the previous published maps in Volume 1, 2 & 3 with a seamless addition and transition to the new areas.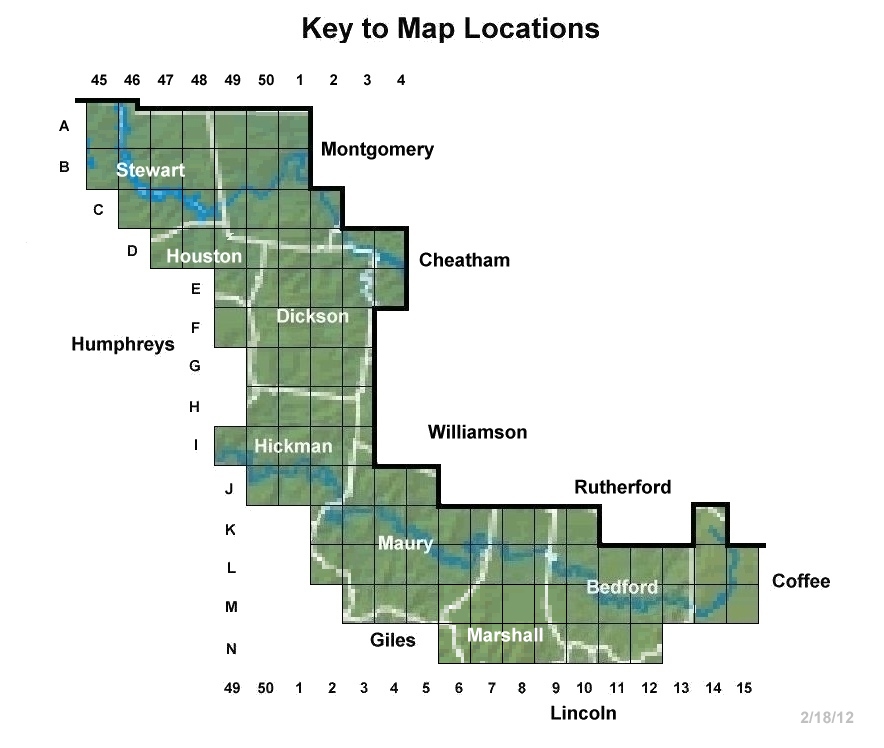 Surveyors and Grantees included in Volume II & III
Land Grant officials: Martin Armstrong - Surveyor Continental Line, Daniel Smith - Davidson County Surveyor, John Armstrong - Entry Officer and Samuel Barton - Entry Officer. The following men were designated Deputy Surveyors in the expanded area of coverage noted above: William Betts, Walter Braly, James Brock, Joseph Brock, Morgan Brown, John Buchanan, Richard Cooke, Ephraim Davidson, James Davis, John Davis, William Dobbins, John Donelson, James Graham, Edward Harris, David Hay, Robert Hays, Edwin Hickman, Thomas Hickman, Thomas Johnson, Thomas Love, Robert Love, William Maclin, John Mann, John Martin, Ephraim McLean, David McRee, Thomas Molloy, James Mulherin, William Murray, William Nash, Robert Nelson, John Payton, Ezekiel Polk, William Polk, B. William Pollock, Isaac Roberts, Robert Russell, Henry Rutherford, James Sanders, Robert Searcy, Howell Tatum, William Tyrrell, David Vance, George Walker, Robert Weakley, Haydon Wells, Sampson Williams, George Winchester
Pioneer Grants - 827 men and women receiving 1699 North Carolina land grants. (This portion commenced in 2010 and as grants are placed they will be added here - completion of grant placements in May 2011) Images of each grant & surveyor plats included as well as transcriptions - each placed on modern day maps. Alexander Acquard, Timothy Acuff, Jacob Adams, David Adkins, Simon Alderson, Ebenezer Alexander, Ezekiel Alexander, George Alexander, Matthew Alexander, Robert Alexander, Stephen Alexander, Capt William Alexander, John Allen, Mary Allen, Sarah Allen, Lt. Walter Allen, William Allen, John Allison, Thomas Allison, Daniel Anderson, David Anderson, William Anderson, James Andrews, James Anthony, Jonathan Anthony, Thomas Archer, Robert Archibald, Charles Arington, Col James Armstrong, Col John Armstrong, Martin Armstrong, Capt Thomas Armstrong, Capt William Armstrong, Capt Samuel Ashe, Joseph Atkins, Charleton Atkinson John Bailey, Charles Baker, John Baker, William Barfield, Hezekiah Barnes, John Barnes, Robert Barnet, Henry Barns, Cap't Thomas Barrett, Betsy Barrow, James Barrow, Sherrod Barrow, Redmond Dillon Barry, Gabriel Barton, Samuel Barton, George Henry Baryer, Amos Baulch, Andrew Bay, John Lewis Beard, Lewis Beard, William Beck, Cap't Robert Bell, William Bell, Jesse Benton, William Betts, David Bizzell, Anthony Black heirs, William Black, William Blackfan, James Blair, Thomas Blair, John Blair, Anthony D. Bledsoe, Benjamin Hodges Blount, John Gray Blount, John Gray & Thomas Blount, Major Reading Blount, Thomas Blount, William Blount, Surgeon Joseph Blyth, John Bond, Wright Bond, John & James Bonner, James Robertson Bosley, Andrew Bostian, Major Robert Bowman, Andrew Boyd, John Boyd, John Boyd Jr., William Boyd, Andrew Boyd & John Hackett, Capt Gee Bradley, Capt James Bradley, James Bradshaw Charles McCommon & Amos Balch, Charles Braiden, James Bradshaw - Charles McCommon & Amos Balch, William Bradshaw, Walter Braly, Col James Brandon, Robert Brank & William McLean, Alexander Breckenridge & David Looney, James G. Brehon, Melchior Brenaman, Sterling Brewer, Thelford & George Brewer, Christopher Brooks, Stephen Brooks, John Brown & John Davis, James Brown, Morgan Brown, William Joseph Daniel & George Brown, John Buchanan, Samuel Buchanan, Samuel Budd, Ambrose Bull, Absolem Burgess, Thomas Burgess, Robert Burton, William Bush, Eusebus Bushnell & William Dobbins, John Butler, William Buxton, Abraham Byler, James Byrnes John Caffery, Robert Calf, Cornelius Callayhan, Thomas Callender, Daniel Campbell, Dempsey Campbell, Thomas Campbell, James Campbell, James Campin, Cap't Lewis Cannon, Stephen Cantrell, Robert Caper, Andrew Carnahan, James Carson, Capt Benjamin Carter, Landon Carter, Robert Casbol, Jacob Cassalman, Jacob & Jeremiah Casteele, Andrew Castleman, Benjamin Castleman, Benjamin Jacob & Joseph Castleman, William Caswell, George Cathey Sr., George Cathey & William Campbell, Richard Cathey, William Cathey, Daniel Chambers, Capt Francis Child, Samuel Churchell, John Civil, Isaac Clark, Lardner Clark, Lardner Clark & William Wykoff, Vachel Clark, John Clendening, Joseph Cloud, John Coart, Jesse Cobb, William Cocke, William Cockran, John Cockrill, Benjamin Coleman, Nicholas, Conrad, Nicholas Conrod, Richard Cooke, Robert Cooper, Thomas Cotton, James Council, Edward Cox, Thomas Cox, David Craig, James Craven, Thomas Creesey, Richard Cross, Raiford Crumpler, George Cummins Richard Dallain, John Darden, David Dauge, Enoch Dauge, George Davidson, William Davidson, John Davidson, Benjamin Davis, David Davis, Elisha Davis, Cap't John Davis, John Davis, Joshua Davis, Thomas Davis, Lt. Col. William Davis, George M. Deadrick, Cosimo De Medius, Thomas Dickey, Edward Dickson, James Dickson, John Dickson, Joseph Dickson, William Dix, Tilman Dixon, William Dobins, Major George Doherty, John Donelson, John & Samuel Donelson, Stockley Donelson, Stockley Donelson & William Tyrrell, William Donelson, Thomas Donoho, William Donoho, Griffith Douge & Duncan Stewart, James Douge, David Douglas, Ezekiel Douglas, James Douglass, Robert Douglass, William Douglass, Morgan Drury, Thomas Dudley, Guilford Dudley, Charles Dungeth, Peter Dunnick Capt John Eburn, John Elliot, John Elliott, Simon Elliott, Thomas Elliott, Charles Ellis, Joseph Ellison, James Ervin, Robert Espey, John Estes, Alexander Ewing Thomas Farns, William Fawn, Richard Fenner, William Ferebee Capt, Caleb Fifer, James Flack, William Fleming, Alexander Flood, Elias Ford, John Ford, Capt. John Ford, Thomas Ford, Elias Fort, John Foreman, Anthony Foster, John Fowler heir of James Fowler, John Frances, George Francesco Anthony Gains, James Gallaspie, William Gallaspie, Thomas Gallispie, James Galloway, Bradley Gambill, John Garrall, Charles Gerrard, Raybon Gibbs, William Gilbert, William Gilbreath, William Gilbreath & Jeremiah Chamberland, Charles Gerrard, James Gill, William Gill, James Gillingham, Charles Gilmore, David Gilston, John Ginnings, Jonathan Gise, James Glasgow, Michael Gleaves, Michal Gleaves, William Goad, Andrew Goff, William Good, James Gorham, Robert Goodlow, William Goodman heirs, Soloman P. Goodrich & Sterling Wheaton, Chloe Goodwin, John Graham, Joseph Graham, Capt Richard Graham, Samuel Graham, John Granberry, James Grant, Reubin Grant, Francis Graves, Jonathan Graves, Joseph & James Gray, Alexander Green & James Robertson, Andrew Green, Dr. James West Green, John Greenaway, General Nathanael Greene, Andrew Greer, Ann Greer, Alexander Greer, Joseph Greer, Thomas & Alexander Greer, Charles Griggs, William Gubbins, Christopher Guice, Edward Gwin Capt Joshua Hadley, Thomas Hafler, Clement Hall, John Hambleton, James Hamilton, Thomas Hamilton, William Hamilton, John Harden, William Hardin, Capt. Frederick Harget, William Hargrove, Israel Harmond, James Harris, Samuel Harris, Maj Thomas Harris, Capt Thomas Harris, John Harrey, Anthony Hart, Cumberland Hart, Chinai Hart, John Hart, Joseph Hart, Mary Ann Hart, Nathaniel Hart, R. G. Hart, Simpson Hart, Susannah Hart, Thomas Hart, John Hawkins, John Hays, Robert Hays, Robert & John Hays, Theophilus Hays, Thomas Hays, John Haywood, Robert Heaton, Archibald Henderson, Joseph Hendricks, William Hendry, Hugh Henry Senr, Isaac Henry, James Henry, John Herley, Mary Henry, Benjamin Herndon, Thomas Hickman, Daniel Hicks, Henry Hiland, Bennett Hill, Dan Hill, Green Hill, Henry Hill, Daniel Hilton, Joseph Hinds, James Hogg, Thomas Hogg, James Holland, Joseph Holland, Lt Hardy Holmes, Abraham Hoover, Joseph Hopkins, John Hord, Archibald Houston, James Houston, Joseph Howard, John Howell, John Huck, James Huggins, Anderson Hunt, Memucan Hunt, James Hunter, Theophilies Hunter James Ives, James Irwin, Joseph Irwin, Robert Irwin Andrew Jackson, Andrew Jackson & Samuel Donelson, William Jackson, Dempsey Jenkins, Edmond Jennings, Willoughby Jervis, Benjamin Johnston, Thomas Johnson, Henry Johnston, James Johnston, John Johnston, Ambrose Jones, Hardy Jones, Henry Jones, Nathaniel Jones, Philip Jones, Seburn Jones, Shadrack Jones, Tignall Jones, Daniel Joslin, David Justice Joseph Kemp, James Kendey, George Keith, John Keith, Abraham Kennedy, Thomas Kennedy, John Kerr, Joseph Kerr, Samuel Kerr, Thomas Kilgore, Joseph Kilpatrick, John Kingsborough, Andrew Kinnaday, John Kirkpatrick, Michael Kirkpatrick, Solomon Kitt, John Knox, John Koin, Gottlob Krauss Hopkins Lacy & Thomas Molloy, Joel Lain, Lt. Abner Lamb, Col. Gideon Lamb, Aaron Lambert, Abraham Landers, William Lanair, John Lancaster, Alexander Lanier, Lewis Lanier, James Lark, John Larkin, Phineas Latham, Lt. Nathaniel Laurence, Hugh Leeper, James M. Lewis, Joel Lewis, Micajah Green Lewis, William Lewis, William Terrel Lewis, Thomas Leydon, James Lindsey, Silas Linton, James Lock, Mathew Lock, John Locke, Hugh Logan, William Loggins, John Logue, Nicholas Long, Robert Love, Thomas Love, Edward Lucas, James Lyndzey, Stephen Lynn, Lt Col Archibald Lytle, William Lytle John Mackey, William Maclin, John Maderis, John Mann, Robert Marley, Archibald Marlin, Dixon Marshall, John Marshall, William Marshall, Governor Alexander Martin, George Martin Richard Martin & Amos Balch, Joseph Martin, Samuel Martin, Capt William Martin, Thomas Massey, Jacob Mathews, Nicholas Matlock, William Matlock, Jesse Maxey, Samuel Maxwell, John McAdams, John McAustin, James McCaferty, Joseph McClammey, Samuel McCleary, Robert McConnel, Robert McCormick, James McCrory, Thomas McCrory, heirs of Douglass McCoy, Benjamin McCulloh, James McCuistion, James McCusster Jr., John McCutchin, Thomas McDavid, Joseph McDowell, John McFarland, Peter McGee heirs, Daniel McKissick, James McKissick, Ephraim McLean, John McNairy, William McNeeley, John McNees, Maj Griffith John McRee, Samuel McRee, John McRorey, James Mebane, Col William Mebane, Capt John Medearis, Adam Meek, James Mences, Thomas Micajah, James Middleton, John Milligan, Benjamin Mills, Robert Mitchel, John Mitchell, Joseph Mitchell, Mark Mitchell, William Mitchell, Thomas Molloy, Thomas Moncrieff, Capt Joseph Montfort, William Moore, John Moran, William Morrison, Joseph Mosley, Samuel Mosley, William Moss, Samuel Motheral, John Motherell, James Cole Mountflorence, James Mulherin, John Mulherin, Melone Mullin, Col Hardy Murfree, Hugh Murphy, Titus Murray, Jacob Myers Sarah Nash heiress of Frances Nash, William Nash, Andrew Neal, Lt Alexander Nelson, Maj John Nelson, Robert Nelson, Eli Newland, Anthony Newman, John Nichols, Joshua Nichols & John Webb, William Norton, John Nowland Elijah Oliver, William Overall, John Overton, Thomas Owen, Christopher Owens William Page, Rebecca Parkerson, David Parkes, George Parks, Hugh Parks, Harrison Parsons, Elijah Patten, Samuel Patten Jr., Samuel Patten Jr. & Thomas Nichols, Samuel Patten Sr., Samuel Patterson, James Pearsall, James Pearson, Thomas Person, Elisha Phelps, Caleb Phifer, Martin Phifer, Martin Phifer Sr., David Phillips, Mann Phillips, Philip Phillips, Philip Phillips & Michael Campbell, John Pierce, Abner Pillow, Gideon Pillow, George Pipkin, George Pirtle, Ezekiel Polk Jr., James Polk, Thomas Polk, Thomas & Ezekiel Polk, Maj William Polk, William Ponder, Rees Porter, Reese Porter, John Porterfield, John Potter, Demsey Powell, Thomas Powell, John Province, Peter Pyette Patrick Quigley William Rainey, John Rains, Mills Ramsey, Benjamin Fitz Randolph, Robert Raper, William Ray, James Reace, Nancy & Elizabeth Reardon, Jordan Reaves, Jesse Reed, John Reed, George Reese Jun, Jesse Renfroe, Peter Rhem, Capt Joseph Rhodes, John Rice, John & Harriet S. Rice, John Rice - Abraham Riston & Elisha Rice, John Rice - Sapington & Company, James Richards, James Richardson, Francis Right, Abraham Riston, Jesse Roberts, Alexander Robertson, David Robertson, Elijah Robertson, Elizabeth Robertson, Felix Robertson & John Jackson, James Robertson, James Robertson & John Davis, James Robertson & Alexander Greer, James Robertson & Joseph Greer, James Robertson & Hugh Leeper, James Robertson & John Rains, James Frier Robertson, James R. Robertson, Mark Robertson, Michael Robertson, Mary Rogers heiress, Daniel Rose, Joseph Ross, Thomas Ross, William Ross, James Royal heirs, Cornelius Ruddell, James Russell, Samuel Russell, Thomas Russell, Robert Spotswood Russell, General Griffith Rutherford, Henry Rutherford, Sarah Rutledge, Thomas Rutledge, Thomas Rutledge Jr. Robert Sample, Abraham Sanders, James Sanders, William Sanders, Samuel Sanford, Miller Sawyers, Sampson Sawyers, James Scott, Marmaduke Scott, Bennet Searcy, Robert Searcy, Reuben Searcy, John Sevier, William Sexton, Philip Shackler, Richard Shaffer, Thomas Sharp, Anthony Sharpe, Anthony Sharpe & Thomas Dugan, Daniel Shaw, James Shaw, Robert Shaw, David Shelby, Evan Shelby, Col Isaac Shelby, John Shelby, Moses Shelby, Benjamin Sheppard, William Sheppard, William Sheppard & James Robertson, William Sherrin, Jacob Shores, Peter Short, Jesse Shute, James Sisk, Isidore Skerrett, William Slade, Robert Slothart, Abraham Smith, Benjamin Smith, Daniel Smith, David Smith, Jacob Smith, John Smith, Oliver Smith, Robert Smith, Col Robert Smith, Robert Washington Smith, William Smith & John Davis, Austin Spain, Robert Stamland, Jesse Steed, Charles Stewart, Duncan Stewart, Duncan Stewart & James Robertson, Robert Stewart, William Stewart, Aquilla Sugg, George Augustus Sugg, Noah Sugg, John Summers, Brig Gen Jethro Sumner, Bailey Sutton Matthew Talbot, Thomas Talbot, Lt. James Tatom, Maj Absolom Tatum, Bainard Tatum, Barnard Tatum, Bernard Tatum, Howell Tatum, Howell Tatum & William Lytle, Howell Tatum & Henry Wiggins, Jesse Taunt, William Taunt, Archibald Taylor, Nathaniel Taylor, James Thaxton, Benjamin Thomas, John Thomas, Micijah Thomas, Philemon Thomas, James Thompson, Jason Thompson, Robert Thompson, Rosiah Thompson, Thomas Thompson, Thomas & Samuel Thompson, William Thompson, James Todd, Henry Toomer, Roger Topp, William Toteville, Ozwald Towns, Richard Trotter, John Trousdale, James Tucker, William Turnbull, Oliver Tuton, William Tuton, Owen Tyler, Arthur Tyner, William Tyrrell, William Tyrrell & James Easton, William Tyrrell & William T. Lewis, William Tyrrell & William Lytle David Vance Allen Walker, George Walker, Joel Wall, James Wallace, William Wallace, Ennis Ward, George Ward, James Watt, Robert Weakley, Robert Weakley & Thomas Bedford, Robert Weakley & James Weakley, Henry Welburn, John Welch, Hayden Wells, Eli West, Daniel Wheaton, Mourning Wheeler & Elizabeth Underwood, Ezekiel White, James White, William Whitehead, John White, Bryant Whitfield, John Whitsell, Wikoff & Clark, Daniel Wilburn, Daniel Williams, Cap't Daniel Williams, Henry Williams, John Williams, Robert Williams, Sampson Williams, Turner Williams, Willoughby Williams, Doctor Hugh Williamson, Thomas Williamson, John Wills, David Wilson, David Wilson & William Wilson, James Wilson, James Wilson Jun'r, John Wilson, Samuel Wilson, John Womble, John Wood, William Wood, James Wyatt, William Wykoff & Lardner Clark Y Z