email address for Book Information & Purchases

Please contact Jack Masters at the email address above for details and other specifics.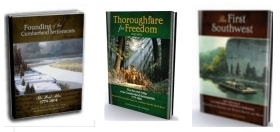 Atlases are 14 x 11, full color "Coffee Table Books"
| | | |
| --- | --- | --- |
| Vol 1 Founding of the Cumberland Settlements | See Note | N/A |
| Vol 2 Thoroughfare for Freedom | Available | $275.00 |
| Vol 3 The First Southwest | Sold Out | N/A |
I have a few 1st edition Volume 1's remaining. These have been in the back of my closet and are crisp and new, in original packaging and signed by all three authors. Included as well is the CD which contains the Data Supplements (Land Grant Genealogies) for all surveys contained in the book. If you are interested please let me know via email shown above. These are the only remaining 1st editions (that I am aware of) so if these are of interest just let me know.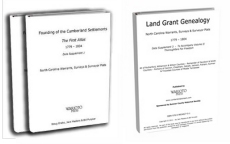 Data Supplements & Land Grant Genealogies are Perfect bound, B & W and 8 1/2 x 11
Shipping & Handling - Add $6.95 per Atlas or $4.95 for all others. ($2.00 for each additional book ordered.)
Payment accepted: Personal Check or Money Order payable to Jack Masters - Sorry no Credit Cards.
Send Orders to:
Jack Masters
1049 Robertson Road
Gallatin TN 37066
Several copies of Volume 2 in the Atlas series are currently available for shipment.
Land Grants on Elk River is in inventory and will ship on a next day basis.