.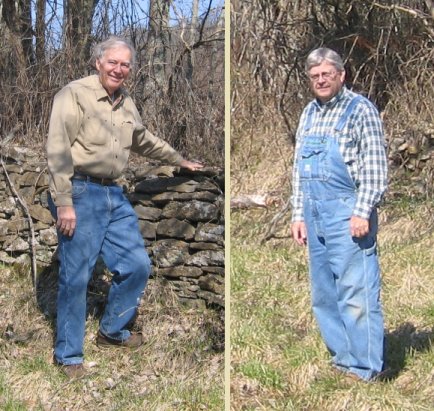 Authors Bill Puryear & Jack Masters
Authors
Bill Puryear Native of Sumner County with roots in Dixon Springs & Hartsville. An active historian and artist, he chairs one of the largest charitable foundations in Tennessee and is a founding officer of an accounting and investment advisory firm. His prints, historical narratives, as well as monthly musings on art and nature may be viewed at www.billpuryear.com Bill and his wife Claudia live in Gallatin, TN.
Jack Masters Retired Engineering Manager at Aladdin Industries in Nashville, TN. A member of Bledsoe Lick Historical Association and Sumner County Historical Society he is currently serving on the Board of Directors for both groups. Jack and his wife Mary Betty have called Gallatin home since 1968. Jack has been active in Civil War History for many years and has written and published three family Genealogy books, a summary of which may be viewed at www.jackmasters.net. He has most recently co-authored a trilogy of pioneer history books noted on this site. Jack designed this site and serves as the Webmaster.
We take great pride in knowing countless dozens of individuals, in middle Tennessee who have contributed to our work. While we have had what seems like more than our share of library research, many various field trips in this Central Valley of the Cumberland Settlements offered a view of history upon which to mesh various pieces of information gathered from many various sources. We have walked, crawled, waded and climbed fences (many of which were very near a spiritual experience). Add to that ticks, mad bulls, upset dogs, mud, quick rains and sometimes very cold or hot weather and you can begin to understand some of our experiences. Our discoveries more than offset any slight discomforts as you can very well imagine. There is certainly no greater reward than exploring this Cumberland region, walking the roads, meeting some of the finest folks in the world and embracing a feeling of pioneer history we never previously knew existed.
Contributing Artist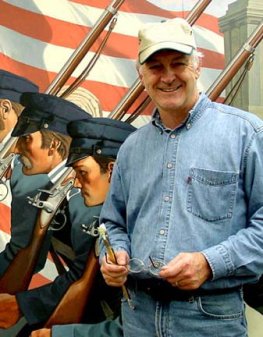 David Wright
David Wright We are very fortunate to have access to David's art in our book series. He now ranks among America's premier artists, including acknowledgment in Who's Who in American Art. His scholarship and deep historical sensitivities are evident in his works on the American frontier, America's Civil War, hunters, settlers, and American Indians. Many of his works may be viewed at www.davidwrightart.com David and his wife Jane reside in Gallatin in a beautiful 18th century style house situated over the ever-running falls of historic Asher's Creek.