.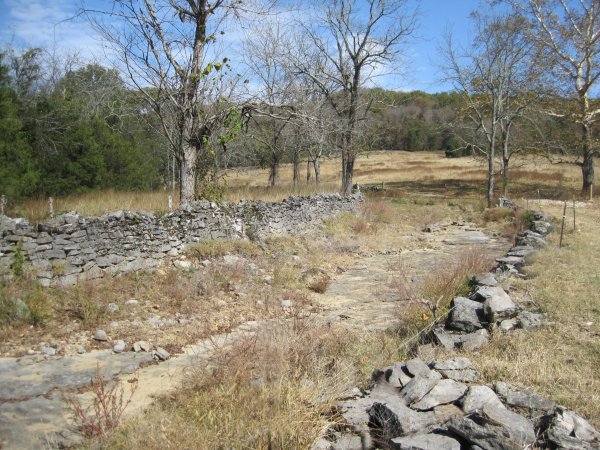 First Holston Road section in Putnam County - Jack Masters, Photographer
We thank those who have made this project possible
Ed Adams, Richard Anderson, James Baker, Margie Boots, Millard Bridges , Mary Jo Butler, Dennis Buzzell, Michelle Cannon, Denise Carlton, Jane Cecil, Roy Christian, Paul Clements, Randall Clemons, Doug Collier, Susan G. Daniel, Joe Davenport, Becky Duncan, Bob Duncan, Walter Durham, Donna Graves Ferrell, Juanita Frazor, John Garrott, Linda Granstaff, Jimmy Green, Irene M. Griffey, Sharry Baird Hager, Jeff Hardison, Howard Harlan, Allen Haynes, Cleo Hogan, Rick Hollis, Jim Hoobler, David F. Howell, Marilyn Hughes, King Jamison, Don Jeter, Ernest K. Johns, Lou & Emily Johnson, Lucy Wright Jones, Sherry Kilgore, Marjorie Lloyd, Jim & Joey Looney, Fred & Nell Manning, Tim Manning, Bonnie Martin, Owen & Beth Massey, Joyce Mayberry, Mike McCoy, Martin & Mike Medley, Maury Miller, Steve Montgomery, John Oliver, Linda Parker, Thomas Partlow, Steve Pearson, Aubrey Preston, Fred Prouty, David Puryear, Sandy & George Ramsey, Alan Ragan, Martin Rooker, John Rose, Ann Ross, Barbara Russell, Becky Settle, Bob & Nathan Shults, Al Simmons, Fred Smith, Kevin Smith, Sam Smith, Laine Sutherland, Tony Teal, Kenneth Thomson Jr., Gary Tisdale, Tony Turnbow, Eloise Viera, Rick Warwick, Diane Graves Weathers, Carolyn Whittenburg, Evelyn Williamson, Jeff Wills, Shirley Wilson, Curtis Woodard, Jane & David Wright, Hal Yarbrough
Organizational Support
Bedford County Historical Society, Cannon County Historical Society, Dickson County Historical and Genealogical Society, Gallatin Public Library of Sumner County, Hickman County Historical Society, Marshall County Historical Society, Maury County Archives, Metro Archives of Nashville and Davidson County, Mt. Juliet-West Wilson County Historical Society, Rutherford County Historical Society, Smith County Historical & Genealogical Society, Sumner County Archives, Sumner County Historical Society, Tennessee State Library & Archives, Trousdale County Library, Williamson County Historical Society Wilson County Archives

Artists

Many thanks to the artists who contributed to Thoroughfare for Freedom. Their art provides a visual feast, and enhances the narrative of pioneer life and of times before cameras were around to record history. Visit their websites for information on their works and for further information on how to contact them. John Buxton - john@buxtonart.com Dale Gallon – www.gallon.com Fred Prouty - Fred.Prouty@tn.gov
Bill Puryear – www.billpuryear.com Bradley Schmehl – www.bradleyschmehl.com
Don Troiani - www.historicalartprints.com Pamela Patrick White – www.ppatrickwhite.com
David Wright - www.davidwrightart.com

Additionally we thank

Melissa Halliburton, who furnished copies of the paintings by her father, Bill Duke
The Frank McClung Museum of the University of Tennessee, for making available their paintings of prehistoric Native Americans, done for them by Greg Harlin
Steve Pearson, who made available his extensive collection of Native American artifacts collected primarily in Wilson County, TN.
Giles Cromwell, who furnished us pictures of Amos Heaton's most interesting original powder horn.
The Sumner County Museum, for the prehistoric Native American artifacts, its Curator Allen Haynes, who photographed them, and the nameless ancient artisans who fashioned them with their hands and primitive tools.
The museums that made available to us paintings from their collections and others in the public domain. Including the Metropolitan Museum of Art, the Museum of Early Southern Decorative Arts, Louisiana State Museum, Wood Art Gallery, William Clements Library of the University of Michigan, Tennessee State Museum, Amon Carter Museum, and Wikipedia, the free encyclopedia.
Finally, we especially thank David Wright, who created our magnificent cover painting, Gateway to the West - Daniel Boone Leading the Settlers Through the Cumberland Gap, 1775, the original of which is featured at Cumberland Gap National Historical Park, Middlesboro, Kentucky.